Recipients of the recently concluded NHS@70 Excellence Awards organised by the Nigerian Healthcare Professionals UK (NHCPUK) were full of emotions and appreciations as they speak to Susie Retty, Africa Alive presenter.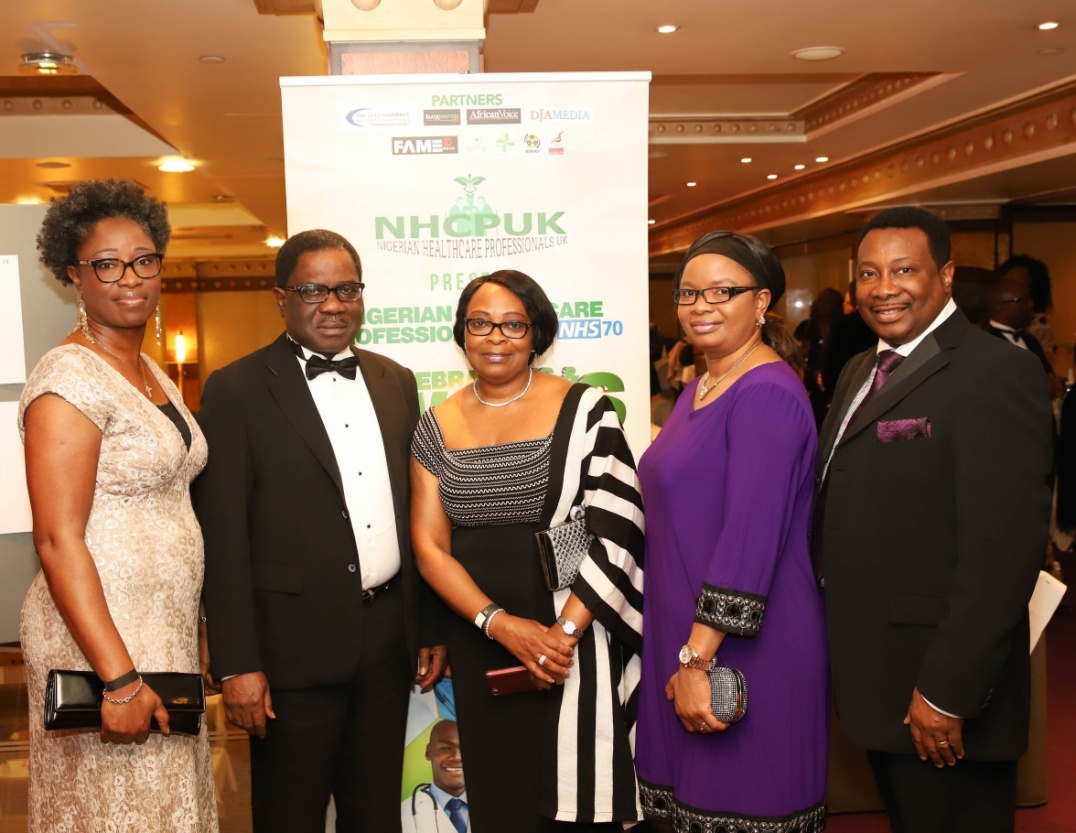 African Voice brings you Part Two of speeches and emotions by some of the 70 Most Outstanding Healthcare Professionals in the UK from the glamorous award ceremony that took place at the Grange City Hotel London on Saturday 23rd March 2019.
Yemisi Osho displays her feeling of deep pleasure:
Yemisi Osho is a distinguished Midwife and Nurse practitioner of over 30 years. She is an outstanding leader, mentor and a role model both within nursing profession and politics.
Elizabeth Ekanem exhibits a feeling of great enthusiasm:
Elizabeth Ekanem is a registered Nurse/ Midwife with over 35 years of experience in clinical practice, abroad and in UK.
Dr Patrick Uwubanmwen pours his hearts out:
Dr Patrick Uwubanmwen is a GP in buckinghamshire working with the Greenbrook Healthcare to provide family physician care for his patients.
Adebola Aroboto and Flora Coker both shocked and full of appreciation:
Adebola Aroboto has been a registered nurse and midwife for over 20 years.
Flora Coker is a Chemist and senior Pharmacist at the Maudsley Hospital – the world's leading psychiatric hospital, which is affiliated with the Institute of Psychiatry, Psychology & Neuroscience (Europe's largest centre for research and postgraduate education in psychiatry, psychology, basic and clinical neuroscience).
Olivia Rufai radiates feeling of excitement and pleasure:
Olivia Rufai has worked at Kings College Hospital London since 1995 as a radiographer. In 1999 she went on to do a postgraduate diploma in clinical ultrasound. In 2010 did a postgraduate certificate in Musculoskeletal Ultrasound.
Chima Olugh and Tom Ademuwagun emit that feeling of sensation:
Chima Olugh is a public health pharmacist. In 2004 Chima Olugh helped develop a smoking cessation referral system from secondary to primary care with the aim of making care continuous between the two settings and was given an award for his pioneering work.
Tom Ademuwagun, is a UK qualified Solicitor and a Social Worker.
Dr Peter Ozua MBBS, FRCPath displays conspicuous delight:
Dr Peter Ozua MBBS is a Consultant Histopathologist/Cytopathologist and clinical lead for cellular pathology department, at Basildon University Hospital, Basildon UK.
Dr. Obaro and Labake Elizabeth Akintunde are full of excitement: 
Dr. Obaro has had his post-graduate training in some of the most renowned centres for Radiology training in the U.K.
Labake Elizabeth Akintunde is mental health nurse trying to bring an end to the "Stigma" attached to mental health especially within the African community.
Titilayo Haastrup and Dr Lola Iyabode Oni OBE unveil strong feeling of appreciation:
Titilayo Haastrup joined the NHS as a registered nurse at the Royal hospital for neuro disability on completion of her conversion training in 1990.
Dr Lola Iyabode Oni OBE is a Specialist Nurse Consultant and Lecturer in with a nursing, midwifery and health visiting background.
Lola Soloye and Theophilus Idowu Bello filled with gratitude:
Lola Soloye has been working in primary care in general practice since 2004, experienced being an expert in long-term condition management, and working with the frail elderly patients both in the community and care homes.
Theophilus Idowu Bello is currently an Assistant Clinical Director in Barnet, Enfield and Haringey Mental Health
Trust.